Material: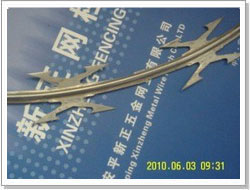 low carbon steel wire, stainless steel wire, iron wire, galvanized steel wire.
Classify: Crossed razor barbed wire/ single coil razor barbed wire/ straight razor barbed wire/ Razor Wire Mesh Fence.
Crossed Razor Barbed Wire
Two pieces of stainless razor wire or zinc-coated razor wire were bounded together by clips to make it more strength. The spiral intersecting barbed wire presents an intersecting shape after opening with beautiful feature and practicality.
Single Coil Barbed Wire
Single coil barbed type wire is installed without clips, it runs in natural loops on walls. Costless and can be easily installed.
Straight Razor Barbed Wire
There are many ways for straight type razor wire installing. The straight type razor wire can be installed quickly .It can not only save expenditure but also reach the result of frightening and stopping.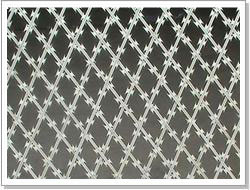 Razor Wire Mesh Fence
Welded razor mesh fence is a new form of razor bared wire mesh for security with practicality blade and the feature looks very beautiful. It can be used for guard net of fence, doors and windows and also can be used in military. The specification can be designed as the customers' need.
Usage:
Barbed Wire mainly serves in protecting of grass boundary, railway, highway and also widely used in military, jail and other national Security Organizations, and industry, agriculture, animal husbandry, dwelling house, also used as fence for cottage as society fence and other private buildings.
Feature:
Aesthetic appearance and protective excellent performance, performance, easy to install, high safety factor, many tricks, and a good deterrent effect, corrosion resistance, aging resistance, sunshine resistance and weather resistance.
| | | | | | |
| --- | --- | --- | --- | --- | --- |
| Ref. No. | Blade Thickness | Core Wire Dia. | Blade Length | Blade Width | Blade Space |
| BTO-10 | 0.5±0.05 | 2.5±0.1 | 10±1 | 13±1 | 26±1 |
| BTO-12 | 0.5±0.05 | 2.5±0.1 | 12±1 | 13±1 | 26±1 |
| BTO-18 | 0.5±0.05 | 2.5±0.1 | 18±1 | 15±1 | 33±1 |
| BTO-22 | 0.5±0.05 | 2.5±0.1 | 22±1 | 15±1 | 34±1 |
| BTO-28 | 0.5±0.05 | 2.5±0.1 | 28±1 | 18±1 | 38±1 |
| BTO-30 | 0.5±0.05 | 2.5±0.1 | 30±1 | 21±1 | 45±1 |
| CBT-60 | 0.6±0.05 | 2.5±0.1 | 60±2 | 32±1 | 100±2 |
| CBT-65 | 0.6±0.05 | 2.5±0.1 | 65±2 | 21±1 | 100±2 |
| | | | | |
| --- | --- | --- | --- | --- |
| Ex. Dia. | No. of Turns | Standard Covering Length | Production Model | Remarks |
| 450mm | 33 | 8M | CBT-60,65 | Single coil |
| 500mm | 41 | 10M | CBT-60,65 | Single coil |
| 700mm | 41 | 10M | CBT-60,65 | Single coil |
| 960mm | 53 | 13M | CBT-60,65 | Single coil |
| 500mm | 102 | 16M | BTO-12.18.22 | Cross type |
| 600mm | 86 | 14M | BTO-12.18.22 | Cross type |
| 700mm | 72 | 12M | BTO-12.18.22 | Cross type |
| 800mm | 64 | 10M | BTO-12.18.22 | Cross type |
| 960mm | 52 | 9M | BTO-12.18.22 | Cross type |